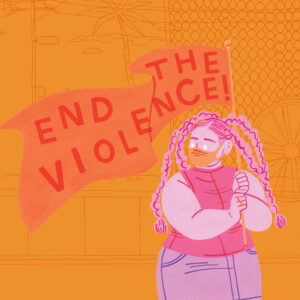 Registration for the 2021 Walk Against Family Violence (WAFV2021) is now open. The walk will take place across Victoria on Thursday 25 November.
Join people across Victoria to raise awareness and walk in solidarity with victim-survivors of family violence and violence against women, at the 13th Annual Walk Against Family Violence.

Although we can't walk together around Melbourne's CBD like in previous years, we can still help raise awareness of and take a stand against family violence and violence against women in our communities by participating in a local walk or "walk from home" event (adhering to COVID-19 restrictions).
Together, we can prevent family violence and violence against women. You can show your support for victim-survivors and help send a message across Victoria that family violence and violence against women is never okay by organising a walk, wearing orange, and sharing a video or photo from your walk using #WAFV2021, #WhyWeWalk and #WAFV hashtags on social media.
You can also download some visuals to share on your social media, see our resource kit at the link.

Public health restrictions and limits on public gatherings mean this year's event will look different but the purpose remains the same – to take a collective stand against family and domestic violence.
You can also follow the WAFV Facebook page for updates.
About WAFV
The WAFV was launched in 2008 by a group of individuals and community groups passionate about raising awareness of family violence and its impact on society.
Now in its 13th year, the event continues to gain momentum, drawing community support and participation at events and activities held across Victoria.
The inaugural 'Walk Against Violence' was held in 2008, on the first day of the 16 Days of Activism initiative. For more than a decade this major event has taken place in Melbourne's CBD. Each year, the walk has gained momentum, drawing larger crowds and increasing interest from the community.
The 2021 event is organised by Safe Steps Family Violence Response Centre in collaboration with the City of Melbourne, Djirra, Domestic Violence Victoria/Domestic Violence Resource Centre Victoria, Emerge Support, InTouch Multicultural Centre, No To Violence, Respect Victoria, Victorian Aboriginal Child Care Agency, Victim Survivors' Advisory Council and Women with Disabilities Victoria. We are grateful for the financial support provided by Respect Victoria as our Principal Partner, and the City of Melbourne.